All-American wrestler urges OSU Trustees to "make it right, so we can heal from this"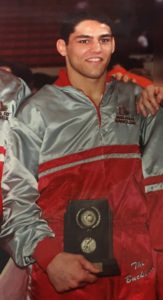 Two-time All-American wrestler Mike Schyck was among seven speakers who testified before the Board of Trustees in 2018. He observed that his story of abuse was eerily similar to other Strauss victims' stories.
Schyck's story starts in 1988, when he arrived on campus armed with a full scholarship.
"I thought this would be the best place for me to win an NCAA title and make an Olympic team," he said.
Schyck's parents accompanied him to the hearing as he recalled the day thirty years ago when they dropped him off at Morrill Towers. One week later, Schyck went for his first physical with Dr. Richard Strauss.
"He took advantage of me in a small room with all my teammates just outside the door," Schyck said. "We were all exposed to Dr. Strauss through physicals, check-ups, visits for an injury or ailment, and the coaches and administrators knew."
Schyck also recalled Strauss's locker room habits.
"Dr. Strauss had a locker next to mine in our wrestling locker room," he said. "He also had a locker in the gymnasts' locker room. Every day without fail at 2 p.m., when our practice was over, Dr. Strauss would shower with our team. Oftentimes he would shower, towel off and then go back and shower with the wrestlers he wanted to voyeurize. He would do the same with the men's gymnasts – daily."
Schyck says he has "anger in his belly" over what happened to him and other students.
It's an anger he wants to go away.
"But I don't know how that's going to happen," he said. "Maybe with your understanding of what each individual story is, change can be made so this doesn't happen to the next generation."
Schyck also said he hopes the Trustees don't dismiss his story.
"I'm asking you guys to hear it, share it, be supportive," he said.
"Make it right so we can heal from this."
Following the Trustees meeting, Schyck was interviewed by several Columbus reporters. One asked Schyck if he told anyone about Strauss's abuse when he was a student.
"I never said anything because we were all part of it," Schyck said. "We as wrestlers just kind of dealt with it. We didn't look at each other as victims, we just found a way to get through it. At times we coped by teasing."
Schyck said, too, that he hopes his presentation to the Board of Trustees made a difference, adding that "my story was heartfelt."
He did not know if former assistant wrestling coach and current Congressman Jim Jordan knew about Strauss's abuse, but said he's disappointed in Jordan's response to the scandal.
"He's in a position to help," Schyck said. "You would hope those guys would be there for us, use his platform to stand side-by-side with us."
Schyck said he attended Ohio State because he idolized Jordan as a youngster and had great respect for Russ Hellickson, who was the head wrestling coach at the time.
Schyck continues to be an advocate for fellow OSU alums.
ACCEPTING CASES
Contact us today for a free and confidential consultation by calling:
1-800-474-5201 or through this contact form